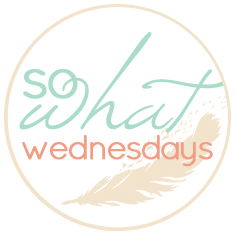 Today I'm linking up with Shannon at Life After I Dew for So What Wednesday! This week I'm saying So What If...
I neglected to watch Owen for ten minutes on Monday during which time he got into a box of Sour Patch Kids bunnies and ate half the box and spilled the sour powder all over the coffee table and then proceeded to draw in it with his finger.
I refuse to talk baby names until we know the baby's gender. This will save us a lot of arguments if it's a girl.
I'm not having a traditional birthday party for Owen's second birthday. We don't know a lot of people with kids his age here and I did the whole spend an arm and a leg on food, decorations, invitations, etc. last year for his first birthday. This year, we're just going to head to the Cincinnati Zoo. I think it will be a bunch more fun than a party anyway.
Owen is going to wear the Easter outfit I bought for him last year because he was too small for it then and he has apparently not grown all that much in the past year.
I really want to buy cute spring and summer clothes even though I know I won't be able to fit into them come summertime.
I don't want to buy maternity clothes. With Owen, I couldn't wait to buy them like it was some awesome rite of passage. Now I've realized that they aren't that cute and are horrendously overpriced and I'm trying to stick it out in my normal clothes for as long as possible.
I'm pretty irritated that my husband has lost a good amount of weight in the last few months. This is really annoying because I am going to be gaining weight for the next five months. Obviously I know that I am supposed to gain weight and all that jazz because I'm pregnant, but seeing our weights grow ever closer to each other has me pretty bummed. At the same time, he does look pretty hot though...