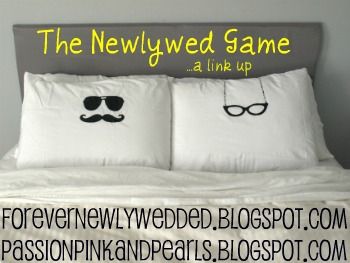 Today I am linking up with Karla from Forever Newly Wedded and Veronica from Passion, Pink and Pearls for a link-up called The Newlywed Game!
My sister-in-law Leah participated in this link-up last week and I thought it looked pretty fun. Although Tim and I will have been married for four years later this year, I still consider us newlywed-ish. Minus having a kid. And another on the way. But compared to our parents who have been married for 20+ years, four years is nothing.
Question 1:
What is your spouse's favorite room in the house?
I really haven't the faintest idea. Probably our bedroom. Because he's a man.
(For the record, he says I'm right.)
I would say our kitchen is her favorite room because of all the time and effort we've invested in it. It's a relaxing place when it's clean and Jessica loves cooking in it.

(Good answer. I do love our kitchen. After a lot of work on our part, it's bright and pretty and big-ish and has plenty of storage. And I do love to wind down at the end of the day by cooking dinner while Tim wrangles Owen.)
Question 2: What was the first picture of you both? Where were you/when was it?
I couldn't remember what the first photo of us was so I checked back in my photo album from when we started dating and the first picture of us together was one from our spring break trip to the Great Smoky Mountains in 2005. We had been dating for probably six months or so at that point so I'm surprised we don't have printed photos from any earlier than that. Not to say that they don't exist, but they just aren't anywhere where I would know where to find them.
The first picture of us both is probably one from a University of Georgia football game decked out in red and black.
(That's a good guess and it might be true. I just don't know where those photos might be and I'm too lazy busy to search the computer for them.)
Sorry about the photo of a photo. It was easiest.
Question 3: Describe a typical evening at home.
Tim comes home from work anytime between 6 and 7 normally depending on how much he has to get done that day. Typically I am finishing up dinner while Owen makes a gigantic mess in his bedroom. Tim amuses the kiddo while I get dinner on the table and then we eat together as a family. Afterwards, we typically split up and one of us bathes Owen while the other does dishes. Then we read stories to Owen and one of us will put him to bed. Then we relax on the couch watching TV before retiring to the bedroom.
I come home from work, say hi to our son and Jessica, spend some time playing with our son and feeding him and putting him to bed and then relaxing with my wife on the couch watching some television.
Question 4: What is the most embarrassing thing that has ever happened to you & your spouse in public?
The only thing I could think of is something that happened when Tim and I first moved to Kentucky last year. We were staying at a hotel until we found our house and on the day that we were moving, we managed to lock both sets of our car keys in their respective cars. I believe one set was in my purse which I had already put in the car and Tim had locked it and then while he was putting something in the trunk, he laid his keys on top of something inside the trunk and when he was done packing, he shut the trunk door. I know I said "Keys...." but it was too late. It was really embarrassing and annoying and having to call a locksmith to come break into our car so we could retrieve two sets of keys was pretty awkward.
Tim couldn't think of anything that I would allow him to share on the Internet.
Question: 5: What do you like best about your spouse's personality?
Tim is really outgoing and makes friends easily. I am definitely more "shy" and reserved at first.
If I had to just choose one, it would be that Jessica strives to be the best and is determined to be the best at whatever she is doing.
(Nice resume answer, Honey.)
Question 6: When it comes to ________ my spouse would win first prize.
Packing a suitcase. Or the car. He is seriously really good at it. Minus the packing of the car keys in the above answer. LOL. Anyway, I don't bother packing my own suitcase anymore. I just lay out all my stuff and he fits it in there like a game of Tetris. His spatial skills rock.
Cooking.
(Hmm... This would obviously depend on who I was up against, but I do appreciate the sentiment. I really enjoy cooking and trying new recipes and I am happy that he will eat most anything I make and like it.)
Question 7: What is your spouse's best physical feature?
I really dig Tim's upper body. He has really nice shoulders and arms. And yeah, I went there. No eyes or smile for me. Though those are nice too.
Her smile.
(I don't know about this one. But it is the most Internet appropriate answer.)
Question 8: What is your spouse's most indispensable possession and why?
He would say his wedding band because he's mushy like that. Otherwise it would be his tablet or cell phone.
Her engagement ring and wedding band because its a symbol of our love and commitment.
(This answer was correct until last week when I got my iPhone. Just kidding... Maybe.)
Question 9: Do you think your spouse will be a good Mom/Dad (why or why not) or if you already have children, what makes your spouse a great Mom/Dad?
Tim is a really wonderful dad. Watching him with Owen is one of my greatest joys. I think what I find the most amazing about him is that he can be a really fun dad one minute, but the next he can be teaching and disciplining our son in a really loving and compassionate way. And I know that he's parenting in way that will help our son grow up to be a good man.
Jessica is a great mom. She's the right balance of discipline with love and compassion.
Question 10: What is something that your spouse is optimistic AND pessimistic about?
I would probably say his job. He doesn't always love what he's doing right now, but he is really optimistic about the opportunities he will have with his company and I know that they really recognize and appreciate him there.
Parenting more than one child. She's excited about having another baby, but freaked out about taking care of two kids at one time.
(This is probably true. I just want to get it right and make sure that I'm giving both of my kids the attention they need.)