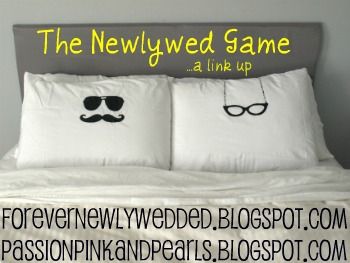 I haven't linked up with the Newlywed Game Link-up in a few weeks because I haven't really had the time to do it, but because my sister-in-law Leah is the new co-host this week, I figured I should make a point of linking up.
Question 1: What is the funniest thing your spouse has done?
I can't really think of anything at the moment. Tim is really funny though and typically catches me off guard with his sense of humor.
The funniest things we have are our inside jokes we've developed over our relationship. They crack us up more than anything she or I do.
Question 2: What is your idea of a good date?
My idea of a good date would be doing something really fun and new for the both of us, but more realistically, I'd just be happy to go out to dinner and a movie.
One that ends with us in bed.
Question 3: What is your favorite memory of you and your spouse?
My favorite memory of Tim is from our wedding night (don't get freaked out just yet!). I was in the bathroom getting ready and all of a sudden I heard Tim's voice. At first I thought it was a weird time to make a phone call, but then as I listened at the door (yes, I eavesdropped!) I realized that he was praying. It was such a sweet, intimate moment and it made me so grateful to have a husband who would take the time to thank God for me.
We have so many good ones. Three stand out in my mind: when I proposed, our honeymoon, and the birth of our first son.
Question 4: What are some activities/hobbies that you and your spouse do together?
We pretty much do everything together. We work on the house together, we play video games together, we travel and go exploring new places together, we watch TV and movies together, we play outside and work outside in the yard together.
Make babies. I like cooking with Jessica, doing yardwork with her, and I like exercising with her.
Question 5: Why do you think your marriage is successful?
We are successful because we view ourselves as members of a team or as one unit. While there are obviously two people, we see ourselves as a pair. Sort-of an us against the world mentality. We depend on one another and support one another so that it's nearly impossible to imagine life without the other.
Our marriage is centered around our relationship with God and is built on the principles of love and selflessness.
Question 6: What is your spouse's dream job? Is he/she currently in it?
Tim's dream job would be in the engineering field where he actually got to design bridges and buildings and stuff. He is currently a project controls engineer so he is not doing what he dreamed of doing when he majored in engineering in college.

(Tim says his dream job would be to be a sports coach or trainer.)
Jessica's dream job would be to have a little bistro or something where she could cook or bake.

(Not really. I am happy to be a stay-at-home mom, but I would also love to have a little business on the side doing something I am passionate about, which probably would be related to children.)
Question 7: What is the best gift your spouse ever gave you?
The cheesy answer would be the gift of getting to be a mom.
Jessica has given me lots of good gifts. The best gift she ever gave me would probably be my Nexus tablet.
Question 8: Where do you see you and your spouse in the next 10 years?
This question is hilarious! We have done so many things in the past three and a half years of marriage that I never would have imagined we would do so I can't possibly guess where we will be in 10 years. We have moved three times in our first three years of marriage alone! (Though hopefully we won't have 10 more moves in the next 10 years.) What I do know is that we will be following God's plan wherever we go. Because His plan is the best plan!
I have no idea where we will be living, but we'll still be married and we'll have a 12-year-old and an almost 10-year-old. Woah!
Question 9: Is marriage everything you expected it to be? Is it much harder than you thought it would be? Why?
Obviously in my imaginings of what marriage was like pre-wedding I didn't really fantasize about bills and job difficulties and all that stuff that comes along with life, but I think marriage has actually turned out to be so much more than what I expected. Tim and I were talking about this the other day. We love marriage. We don't see marriage as being all that hard. Obviously it is hard to die to our selfish natures and put another first, but marriage itself isn't that hard if you're with the right person. You know what is hard? Life! And luckily marriage and having an awesome spouse is one of the biggest things (besides a relationship with God) that helps you get through all the hard stuff in life like pain, death, disappointment, loss, and more.
I don't think marriage is hard. It requires work, but that work isn't too bad if you get along and enjoy being with the other person.
Question 10: Who is your spouse's celebrity crush and do you look like them?
We had this talk the other day just for fun and Tim always gets really uncomfortable when I ask him if he thinks any celebrities are attractive. So I don't really know.

(I pressed him to think of somebody and he came up with Olivia Munn from The Newsroom. Oh, and I look nothing like her and there are lots of really skanky photos of her on the Internet.)
Ian Somerhalder and he looks just like me.

(Note his sarcasm).